The Voice of a Fortress
27.12.2023 – 28.01.2024
Fortress Kufstein
Review
2021/22 - how does it start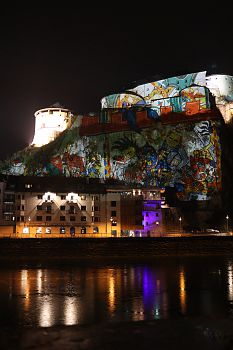 For a long time, an opulent New Year's Eve fireworks display was a fixed part of the annual transition in Kufstein as well. However, with the growing environmental awareness, the undesired side effects of the fireworks show, such as health-threatening fine particulate pollution and the distressing noise for wildlife and pets, increasingly came to the forefront.

To make the New Year's beginning as colorful, uplifting, and festive as possible while addressing these concerns, the "Voice of the Castle" was conceived and realized for the first time on Kufstein Fortress in winter 2021/22. This collaborative effort between Location Marketing Kufstein, local actors from the arts and culture, and the projection specialists from Lumnie Projections brought to life a vibrant event.

Four locations within the fortress grounds, along with a large-scale projection on the castle hill, formed the colorful backdrop for the premiere of the Kufstein Light Festival. Enthusiastic audiences from near and far listened to the voice of the castle and experienced a spectacular start to the New Year.
media coverage
Tiroler Tageszeitung – Enthralling time travel with rapid effects at the Lichtfestival Kufstein
https://www.tt.com/artikel/30809359/mitreissende-zeitreise-mit-rasanten-effekten-beim-kufsteiner-lichtfestival

MeinBezirk – Regina Lemnitz lends her voice to the Castle
https://www.meinbezirk.at/kufstein/c-lokales/regina-lemnitz-verleiht-der-burg-ihre-stimme_a5048164

Tourism Press – Lichtfestival Kufstein: Renowned voice actress gives voice to the Castle
https://www.tourismuspresse.at/presseaussendung/TPT_20211207_TPT0012/lichtfestival-kufstein-bekannte-synchronsprecherin-leiht-der-burg-ihre-stimme-bild
2022/23 - Guiding Light in the Darkness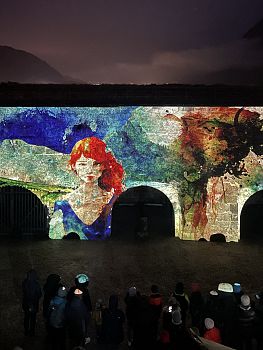 In the following winter, the event organizer team found themselves directly confronted with the consequences of global political events – the energy crisis threatened to cast a dark shadow over the continuation of the light festival.

By forgoing the outdoor projections, energy consumption was halved, and it has since remained significantly below the average annual consumption of an Austrian household. An additional venue within the fortress that explores the tragic life of the young Kufstein native, Friederike, and an updated annual review provided fresh attractions for those visitors who had already lent their ears to the Voice of the Castle in the previous year.

The radiance of the light festival also caught the attention of the creators at National Geographic. A film crew from the National Geographic documentary series "Europe from Above" dedicates an extensive segment to the audiovisual spectacle in the episode "The Alps," which will soon be broadcast worldwide on Disney Plus.
media coverage
Kronen Zeitung – the fortress Kufstein breaks her long silence
https://www.krone.at/2896397

SIMs Kultur – Lichtfestival Kufstein - on the way of the fortress
https://simskultur.eu/festung-kufstein-lichtfestival-kufstein-stimme-der-burg/

MeinBezirk – new production at Fortress Kufstein
https://www.meinbezirk.at/kufstein/c-lokales/neue-inszenierung-fuer-die-kufsteiner-burg_a5683549